Monday, 16 September 2013
Okay for the last two weeks, I've been talking about Measurement System Analysis and before I move on to a new topic I have one final post on why you should be thinking about MSA. Here it goes…
Why you use it
You use MSA to compare you customer's expectations to your inspection standards. This is a very quick illustration of a value stream map and a good way to ensure that you are providing the best service for your customer.
  It gives you a snapshot of where the training in your organization should be.
 It gives you the opportunity to evaluate your trainers in a truly neutral fashion. The data doesn't lie and you can assess the training in your organization from a truly objective perspective.
Creates an opportunity to analyze your existing systems and evaluate new systems.
Why is it important?
Allows you to measure the amount of variation in your measurement systems.
Allows you to compare user variation.
Allows you to compare two or more measurement systems.
Helps you develop a baseline for measurement systems.
Helps you develop a system to evaluate the moving pieces in your organization.
Gives you a true before and after picture.
Gives you a true measurement of variation and the causes of it.
Evaluates your training programs.
So I am a big fan of MSA as you can tell, but the bottom line is that it can really affect your organization in the best way. It forces you to be accountable and it forces you to pay attention to the changes. Give it shot and if we can help, let us know.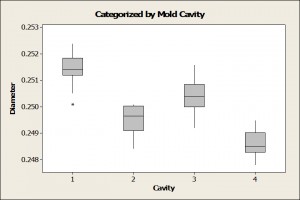 As we cover Six Sigma Statistics, I want to make sure that I go over the illustrative part of the statistics. We know Six Sigma is technical but the key to making it stick, is to make it simple and understood by the non-technical people using it.  So let's talk about the Box Plot or the Whisker Plot. A key thing to remember in Six Sigma is that everyone using different terminology, so ask questions and make sure you are speaking the same language.
What is a Box Plot?
Simply put a box plot helps to put a picture to the data showing you where most of the data falls, how the data is distributed and where the outliers are. So it basically shows you what you've got, how it looks and what is unusual about it.
What does it measure?
Say you have a process that has multiple variables affecting it and you want to know what is what. If you have a delivery truck with 4 alternative routes a box plot can show you which ones, according to the data, are the most problematic. Additionally a box plot will tell you how symmetrical your data is. Knowing if your data is skewed or not can affect how you interpret your data. In a box plot, if the data is mostly symmetrical the median will appear in the middle of the box and the whiskers will appear to be mostly the same length. IF the data is skewed to one direction, the median will not be in the middle and the whiskers will be different sizes.
How does it work?
Box plot measurements are based on quartiles and the distributions are shown within the graphic. Think back to your SAT's or ACT's.  Remember how they told you that you scored in the 25th percentile? Well that's a box plot. You will have an upper limit and a lower limit and those limits will be determined by your organization's goals. The outliers will be the extreme values, values that are so far outside of the normal distribution that it is unlikely they will be reproduced.
Interpreting your data is just as important as gathering it, so choose carefully and with purpose. Talk to your belt and use that advice to help you find the best method for your organization.
In Six Sigma we are always collecting data, generally we are collecting data to address a current problem in our operations or services. The wonderful thing about Six Sigma is that we are also able to collect passive data. The usefulness of passive data is that it provides us with the ability to identify patterns, the catch to visualizing these patterns is in selecting the right graph to view the data.
 Why use a graph?
The first benefit that comes to mind is the ability to see the error trends from a visual perspective. The other reasons graphs are a great tool are:
Alongside identifying trends, they also help you see potential variable relationships. When you have a situation that could have multiple culprits, a graph can help you see which ones are a real potential.
They can help you identify the risks that your customers will determine critical. This move allows your customer to be proactive instead of reactive, a much more desirable trait.
It allows you to systematically dismiss variables and determine which one's control other ones.
It shows you the results of the passive data you've collected.
Where do I get the information for a graph?
Data is everywhere right? Yes and No. Your graph is only as good as your data, so we don't want questionable data. The integrity of your data will be defined by your individual organization, but if you stick to these three questions you should be fine:
What do you need the data to tell you?
How often do you need to collect it?
How do you need to collect it?
Next week we will get into the types of graphs and what times of data are appropriate for them. Until then happy hunting!