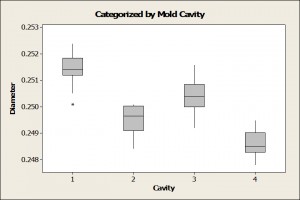 As we cover Six Sigma Statistics, I want to make sure that I go over the illustrative part of the statistics. We know Six Sigma is technical but the key to making it stick, is to make it simple and understood by the non-technical people using it.  So let's talk about the Box Plot or the Whisker Plot. A key thing to remember in Six Sigma is that everyone using different terminology, so ask questions and make sure you are speaking the same language.
What is a Box Plot?
Simply put a box plot helps to put a picture to the data showing you where most of the data falls, how the data is distributed and where the outliers are. So it basically shows you what you've got, how it looks and what is unusual about it.
What does it measure?
Say you have a process that has multiple variables affecting it and you want to know what is what. If you have a delivery truck with 4 alternative routes a box plot can show you which ones, according to the data, are the most problematic. Additionally a box plot will tell you how symmetrical your data is. Knowing if your data is skewed or not can affect how you interpret your data. In a box plot, if the data is mostly symmetrical the median will appear in the middle of the box and the whiskers will appear to be mostly the same length. IF the data is skewed to one direction, the median will not be in the middle and the whiskers will be different sizes.
How does it work?
Box plot measurements are based on quartiles and the distributions are shown within the graphic. Think back to your SAT's or ACT's.  Remember how they told you that you scored in the 25th percentile? Well that's a box plot. You will have an upper limit and a lower limit and those limits will be determined by your organization's goals. The outliers will be the extreme values, values that are so far outside of the normal distribution that it is unlikely they will be reproduced.
Interpreting your data is just as important as gathering it, so choose carefully and with purpose. Talk to your belt and use that advice to help you find the best method for your organization.
Rolled Throughput Yield (RTY) is a measurement metric that illustrates the losses due to rework or corrective action. The beauty of this metric is that is shows in statistical fact the relationship between the defects and the cost of poor quality. This is the tool that most management asks for without knowing the name.
What does it look like?
RTY is generally illustrated in the Poisson Model as pictured below
What doesn't it do?
While the RTY metric provides a great visual presentation for the improvement areas and the cost of not doing those improvements, it requires a lot of data. Most companies unfortunately do not make a habit of recording specific defect data, and if your company does not have access to this data it really isn't cost effective to put in software to capture it. If you don't have access to the data, you are going to be operating on a kind of forecast based on what you do have access to.  I do have to caution you that if your process has more than 10% defects, RTY should not be you focus. Identifying root cause should be your priority.
Now that we have gone over some metric types, you should have at least a basic understanding of why the metric is done and what it tells you.  As always this is just a launch pad, your belt will be able to help you with the specifics and creating a metric that will be useful to your organization.
6Sigma Tools: Design for Six Sigma (DFSS)
6Sigma can be so many things to your organization, but the most important thing to remember is that is has to relevant to your organization.  This requirement is what makes Design for Six Sigma or DFSS such an asset to any organization looking towards a lean strategy. Technically speaking DFSS is not 6Sigma but an alternative methodology, but I think the ability to integrate exists. DFSS if often used interchangeably with DMADV but the key difference is that DMADV is used to eliminate defects and variation, while DFSS is used to create new or replacement processes.
What is it?
DFSS stands for Design for Six Sigma and its main function is to assist in improvements by creating a new design or redesign of a product/service at base level. In essence it is the foundation on which process improvements can be built. It is a cross functional activity that relies on forecasting at its core. DFSS projects operate based on the IDOV methodology.
IDOV Methodology
Why should I use it?
DFSS provides many advantages to your organization such as:
Improved speed
Improved accuracy
Increased customer satisfaction
Decreased labor costs
What does it look like?
The chart above is from sixsigmaworld.blogspot and it is the simplest version of DFSS that I have found.
What doesn't it do?
DFSS is different from 6Sigma in the fact that it creates efficiency as the process is being built, whereas typical 6Sigma deals with improvements to variations and defects after a process has already been implemented. So if you are looking to correct an issue, DFSS is not going to help you much. If you are looking to scrap the current and begin again, then DFSS is a great fit.
As with all things on this blog, this is a technique best utilized with the guidance and expertise of your belt. I hoped I have demystified it a bit and helped you to start a dialogue with your belt.