As we keep walking down this wonderful world of 6Sigma it's important that we talk about how capability is measured. We've been talking about process capability for a few weeks now, so let's talk about the capability measurement methods. This week we are going to focus on capability index and process capability.
What does it mean?
The first thing we need to understand are the terms for measurement, so here are a few basic definitions.
Cpk and Cp are capability rates and Pp and PPk are performance rates.
Cp- When you see this, you're talking about rate of your process capability. To find it you use this formula:

Pp-When this comes up, the conversation is speaking to the pure performance of your process. The formula to find this data is:

Cpk- This refers to your process capability index, basically telling you how close your project is running to the acceptable limits. The formula for finding Cpk is:

Ppk-This refers to the non-centered distribution, when you hear this term it's referring to adjustments to the effects that distribution. The formula for Ppk is:

What's the Difference?
The main difference is the way the information is calculated. Cp and Pp is really short term data that considers only the quantity of information determined by specified limits. Cpk and Ppk rates process capability based on centralization and variation within one specification limit.
Data is so much more than numbers, but by understanding the why and the how 6Sigma begins to teach us what is significant in our data.
One of the key things learnt from 6Sigma is the ability to accurately measure and analyze the information your organization collects. This can be as technical or as general as your organization needs, the key is to understand the level of specificity your organization needs and analyze from there. A Black belt will be able to give you in depth analysis, but a good one will give you exactly what your organization needs. We'll start the discussion with Multi- Vari Analysis.
What is Multi-Vari Analysis?
Simply put this puts a face to the data. Once you have collected all of your information Multi-Vari studies take the data and illustrate the patterns of variation within the data. It helps you identify group or correlations between subgroups and over time.  When you can identify the groups, you can make assumption or draw conclusions based on the data. For example if your data shows the your staff made more errors on product X you can draw the conclusion that your improvement efforts need to be focused on that particular product.
What is it used to assess?
Multi-Vari studies are useful in many ways but the most standard uses are
to illustrate data in graphics.
to show how work is influence by defined variables.
to show the impact of specific material, departments or methods.
the effects of external factors such as noise, delivery delays etc.
When you need to show stakeholders, influencers or project staff what you have found multi- vari studies are a great way to produce a visual. Since most people learn by doing, a visual representation allows them to see what they have done and to show leadership the gains or losses accordingly.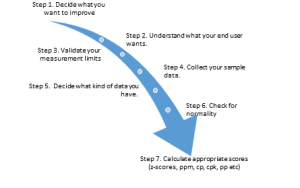 We opened last week with Process Capability and before we go full-fledged into that area, I want to pause and put some focus on capability studies.
What is a Capability Study?
To review from last week, a capability study is a way to ensure that your process is consistent over an extended period of time. For example if step 3 in your process produces 3 errors per cycle for 3 years, your process in consistent.
How Do You Find Stability?
There are a ton of tools you can use to test the stability of your process, but some of the most common tools are Time Series Plots and Control Charts. In addition to these tools there is a step by step process (of course!) to test the capability of your process, here they are.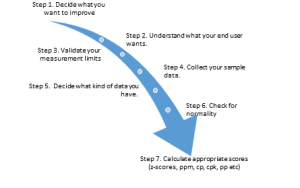 What should know about capability studies?
As with all 6Sigma tools, the effectiveness of this tools lies more in how you understand and how you apply it. The most important things to remember are:
Capability studies are used to measure the same parts of the process, at the same stage in the process at exactly the same time every time it is measured.
You can use the capability study on discrete and continuous data.
You get the best (ie most meaningful) information when you run the study on already stable and predictable data. New processes are not the best place for this tool.
When you hear Sigma Level, they are talking about capability.
Capability studies require you to understand:

The limits of your customer or organization.
The difference between short-term and long-term
data and what those differences mean to your organization or customer.
Mean and standard deviation.
How to assess normality of your data.
How your organization or customer determine Sigma level.
Capability Studies can give you a great deal of insight on how your organization is running and what is making it difficult.  This is one way to get a sense of the information flow and the quality of the information you can get your hands on. So let's start off the new year with a look at what your data is telling you. Happy Hunting!